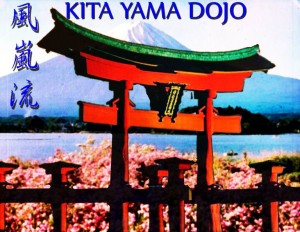 Welcome to the Kaze Arashi Ryu Kita Yama Dojo (North Mountain School), Phoenix, Arizona.We are a branch dojo of the Kaze Arashi Ryu, teaching their traditional Japanese martial arts, or bujutsu, under the guidance of licensed (menkyo) instructors.
Our dojo originally opened in Queens, New York, in 1978, by our principal instructor but is currently located in North Central Phoenix, Arizona since 1994. Our present main instructor (Agustin Ramirez) began training in this tradition in 1994, and currently holds the menkyokaiden certificate in all arts of Kaze Arashi Ryu.
The Kita Yama dojo consists of a dedicated group of people of a varied age range and experience. We have all chosen a path of traditional instruction by committing to learn the knowledge of techniques, strategy, spiritual guidance and philosophy of Kazemura Yama Arashi Ryu. Even though we practice in a traditional manner the principles of the tradition are also used in a modern way against modern weapons and applications.
Our current instructors have a high level of knowledge and experience of Kaze Arashi Ryu as well as knowledge of other martial arts, but they have chosen Kaze Arashi Ryu because they feel they have found something special and want to pass on their knowledge to others.
We accept students of all ages, abilities and both sexes as the techniques of Kaze Arashi Ryu do not rely on strength or fitness but on principles to be utilized to weaken an opponent's body.